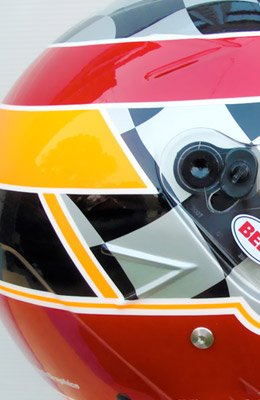 NITROGEN FOR PAINTING OF MOTORCYCLE HELMETS, RALLY, SKI. HELMETS IN FIBERGLASS OR CARBON

When helmets are sent to be coated, the first coat is normally applied with six automatic spray guns using a bicomponent paint that can be either waterborne or traditional. Subsequently, before the coating of the helmets, the drying and decalcomania operations are being carried out.
After which the refinish procedure follows when the final coat of transparent is applied with three automatic spray guns. To carry out this procedure it only takes 6-7 minutes.
With the new Nitrotherm Spray system (manufactured by Eurosider) the coating of helmets will be carried out with spray guns producing ionized heated nitrogen in the paint to be applied on the helmet. Therefore more paint will be applied with less material dispersion in the environment. No orange-peel effect, quicker drying of paint. No sags, savings of time and material, a more qualitative product.
Visit the pages of revolutionary Nitrogen Coating systems patented by Eurosider
Questo post è disponibile anche in: Italian